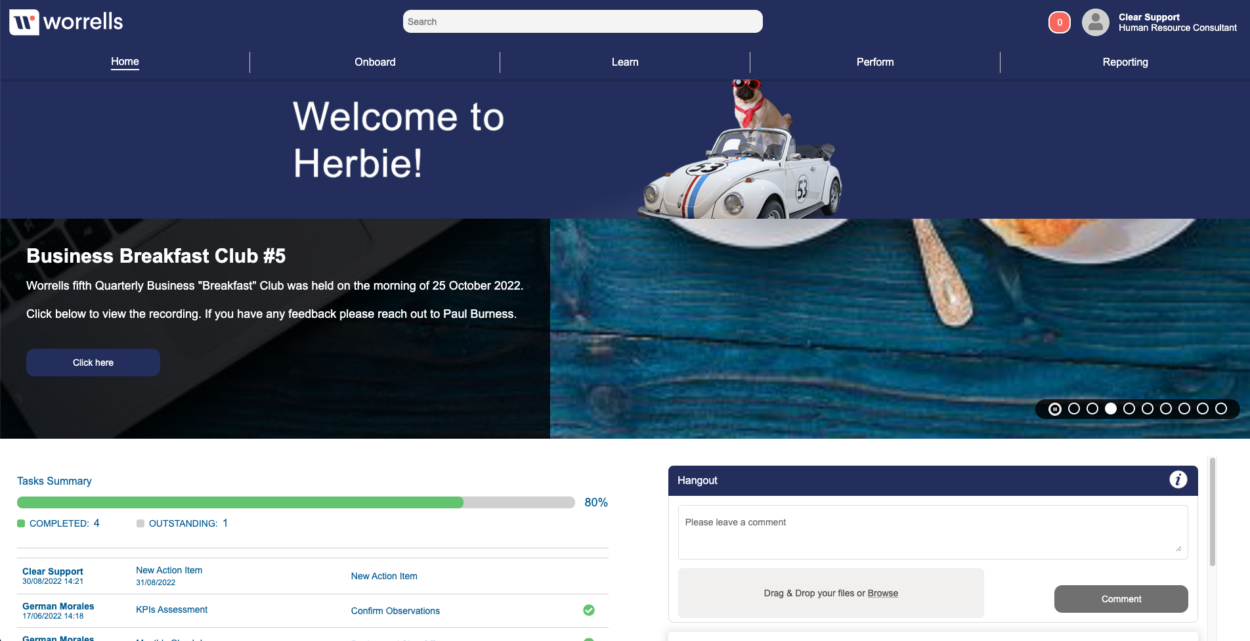 Worrells is a leading Australian insolvency and turnaround firm with locations nation-wide. They help both companies and individuals to recover from difficult business or personal financial situations.
"ClearXP worked with us to custom build a platform that fits our needs. We now run Performance Management, Learning, Onboarding and Business News through the platform. It's an all-in-one solution that makes it easy for staff to access these tasks and for administrators to generate reporting."

Georgie Harrison, Human Resources Manager, Worrells
Worrells need for a cohesive solution
With a growing workforce and ever-increasing compliance, professional development and certification needs, Worrells needed to find a solution that made it easy to embrace digital learning. They also wanted to find a way to align their digital learning with other key HR functions such as Onboarding and Performance Management.
Some of the needs specific to Worrells:
The existing system performed certain functions fine but was unable to provide enough functionality to deliver learning along with performance.
A small and very busy HR team required a system that was intuitive and easy to use while providing the level of visibility needed to keep abreast of requirements.
The nature of a changing workforce with lockdowns and more remote work elevated the need to keep the team engaged and overcome a poor perception of such technology.
The Solution
Along with key stakeholders from Worrells and Tonka Learning, our senior team designed and developed a solution that fully utilised existing functions and leveraged our flexible infrastructure to build new features. 
For the important Learning functions, the content management system (CMS) was used to develop learning activities at a program (pathways, academies and capability framework) level and at a course level (video lessons).
To keep abreast of learners' Continuous Professional Development (CPD) requirements, a training calendar function was introduced. CPD can be tracked based on platform participation or manually logged as
Professional certifications and other achievements are kept up-to-date.
The Performance Management component allows team members and managers to stay on top of KPI results and ratings as well as develop and review quarterly and annual goals. Monthly check-ins include discussion points, reviewing KPI results and the ability to form action plans.
Onboarding documentation and processes are all digitised and made easy to access.
Communications through the platform encourage peer-to peer interaction, smooth employee to manager workflows and allow organisational announcements.
Reporting is detailed with all platform utilisation tracked and each month the person who engages the most is celebrated.
Results
Engagement with the Worrells Hub or "Herbie" as it has been affectionately dubbed, has been very high with all employees now relying on it as the single point of truth for all their human resource needs.